Love these DIY ideas as much as we do? Stay up to date on our latest findings by liking our facebook page at Home and Heart DIY Facebook
I'm a sucker for organization. When there is no organization, it feels like my life is chaos and falling apart (okay, maybe not so dramatic, but close!) Since downsizing from three bathrooms to one when we moved, I need all the organizational and space saving tips I can get!
This first one my husband will really appreciate. He HATES it when I leave my hot tools out on the counter. I like this because it is hidden, and there's an outlet right by the tools, so you don't have to keep unplugging and plugging in.
via: The Idea Room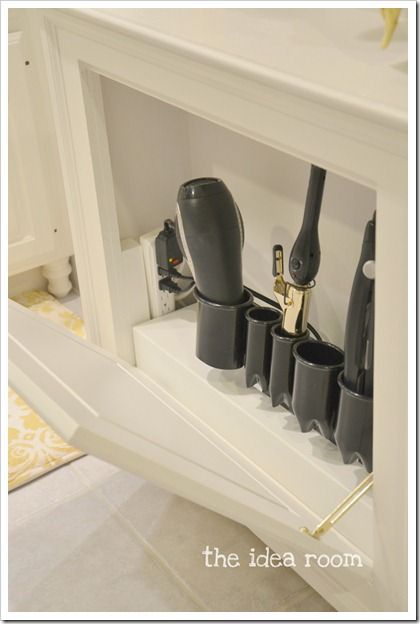 I LOVE this idea! We all have those little items floating around the house, that we can never find when we need them. Well here's the perfect solution! You can find these magnetic wall mounts at Ikea. (Not sure if any other stores carry this).
via: Darkroom and Dearly
I like this space saving idea! It's relatively easy to do, and pretty nifty. Why didn't I think of this?
via: The Family Handyman